Glasgow Wine Walk
Enjoy an afternoon of food, fun, music, and wine in downtown Glasgow Missouri!
WEATHER – Rain or Shine:
Bring your umbrellas and we will see you there! If there is inclement weather the wineries will set up inside local businesses.
When
Saturday April 9th 2022
4pm – 8pm
Live music by the North River band.
FEATURED WINERIES – MORE Coming Soon…
Baltimore Bend Winery
Beckett's Winery
Fahrmeier Family Vineyard
Giggling Grapes Winery
Hummingbird Vineyard & Winery
Twin Meadows Winery
Wenwood Winery
Wildlife Ridge Winery
Must be 21+ to sample wines.
LIVE MUSIC
4 PM – 7 PM Riverfront
North River Band
Sponsored by Glasgow Chamber of Commerce
8 PM – 11:30 PM Riverfront
I-70 Overdrive
Sponsored by Glasgow Lions Club
PURCHASE TICKETS
Tickets: $20
VIP Tickets: $35 (online only)
For our VIP's. Skip the line and purchase VIP tickets in advance!
Your day starts an hour earlier
Exclusive access to all wineries
Special lanyard with a custom VIP Glasgow Wine Walk glass
*There are only 50 VIP tickets available (first come, first serve)
Order by April 8th.
BUY regular tickets On-Site:
Day of Event – Tickets will be $25
For more information, please contact info@glasgowmo-chamber.com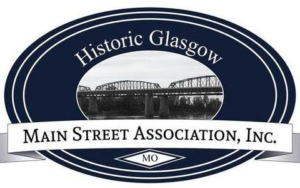 Sponsored by…
Glasgow Main Street Association
The Glasgow Chamber of Commerce and Glasgow Main Street Association work hand in hand to enhance our community, promote current and new businesses and bring our community together.
This close partnership allows Glasgow to bring the entire community together and assist each other in growing.
First and foremost, we promote and identify economic growth areas
Secondly, we highlight our heritage, cultural and historic foundation
Thirdly, we partner
Fourth, we bring the skills and expertise of our businesses together
Fifth, we make an impact
Finally, we invite others to join us, visit and experience Glasgow through our local events and activities
Visit Glasgow Main Street Association
"The Glasgow Main Street Association (MSA) is a non-profit group consisting of local members who are dedicated to making downtown Glasgow a great place to do business, live, work, and visit. Specifically, the MSA works to improve Main Street so all can enjoy its vitality."